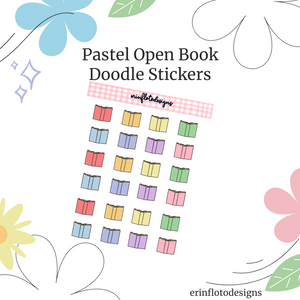 Delight in the beauty of reading with these pastel open book mini stickers. Perfect for journaling, scrapbooking and planner decorating, these digital downloads add a touch of serenity to your creative projects. Let the power of words bring a freshness to your pages today! All stickers are hand drawn and lettered by Erin Floto Designs.
---DETAILS---
1 PNG (3.5" x 4.5" Mini Sheet) - Pastel Open Book Doodles 
All items are handlettered or drawn by Erin Floto.
---GET SOCIAL---
Instagram: www.instagram.com/erinflotodesigns
Facebook: www.facebook.com/erinflotodesigns
Pinterest: www.pinterest.com/erinflotodesigns
Website: www.erinflotodesigns.com
Patreon: www.patreon.com/erinflotodesigns