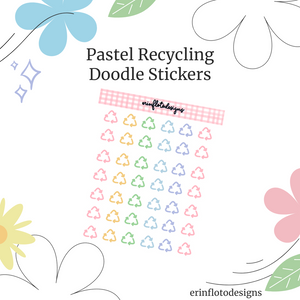 Make your planning stand out with these Pastel Recycling Icons Mini Stickers! Brighten any page with these playful, vibrant designs, perfect for adding a bit of personality to your notes and paper crafts. Get creative and jazz up your space with these cute, colorful stickers! All stickers are hand drawn and lettered by Erin Floto Designs.
---DETAILS---
1 PNG (3.5" x 4.5" Mini Sheet) - Pastel Recycling Icon Doodles 
All items are handlettered or drawn by Erin Floto.
---GET SOCIAL---
Instagram: www.instagram.com/erinflotodesigns
Facebook: www.facebook.com/erinflotodesigns
Pinterest: www.pinterest.com/erinflotodesigns
Website: www.erinflotodesigns.com
Patreon: www.patreon.com/erinflotodesigns