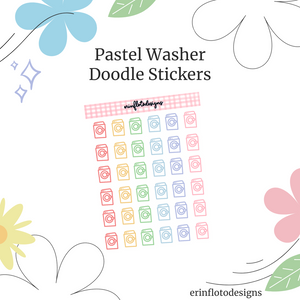 Add a subtle splash of color to your planner with these delightful pastel washing machine icons mini stickers. Vibrant and versatile, the digital download stickers are perfect for sprucing up any document or project. Enjoy a quick and easy application with the high-quality sticker collection. All stickers are hand drawn and lettered by Erin Floto Designs.
---DETAILS---
1 PNG (3.5" x 4.5" Mini Sheet) - Pastel Washer Icon Doodles 
All items are handlettered or drawn by Erin Floto.
---GET SOCIAL---
Instagram: www.instagram.com/erinflotodesigns
Facebook: www.facebook.com/erinflotodesigns
Pinterest: www.pinterest.com/erinflotodesigns
Website: www.erinflotodesigns.com
Patreon: www.patreon.com/erinflotodesigns